CIT 2014
Objects in the Mirror are Closer than they Appear: Reflection, Innovation, and Learning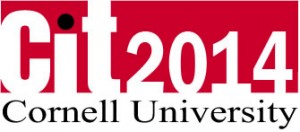 The Conference on Instruction & Technology (CIT) is SUNY's largest and most prominent event on instructional technology, bringing together a diverse audience of faculty, librarians, instructional support staff, and campus leadership. CIT provides a forum to present, discuss, and explore innovative avenues for integrating technology into the teaching and learning environment.
The theme for CIT 2014 Objects in the Mirror are Closer than they Appear: Reflection, Innovation, and Learning, is supported by the following tracks:
Design: Learning Design: Creating a Quality Learning Environment
Engage: Engaging Students in a Virtual world
Open: Opening SUNY
Collaborate: Collaborating Across the System and Beyond
Assess: Strategies on Assessment of Learning
Higher education is underway with tremendous innovation and transformation; CIT provides us with a consistent opportunity to examine our practices and explore change in response to our learning environments. CIT 2014 will serve as a powerful mirror to enhance our perceptions of the future, to highlight successful foundations and iterations, and to reduce our risks by seeing objects in the critical path of higher education.
The CIT 2014 conference program focuses on connection strategies to move higher education forward. The evolution of the teaching and learning environment is arguably one of the most powerful, rapidly changing, and successful shared experiments across the globe. SUNY leadership and innovation is recognized for providing excellence in vision and strategies to the evolution of higher education.
Looking forward and back, assessment strategies and learning analytics are key to understanding the effectiveness of learning and to the changing learning environments. Personalized learning, ePortfolios, and other initiatives are changing the way learning is managed, documented, and even the way credit and accreditation work.
Through our design of learning in support of student engagement, we will see learners and teachers collaborating to define and map the learning adventure. Working together, we will explore open SUNY as a powerful collaboration across campus, campuses, and the globe.
CIT 2014 will engage our faculty, administrators, instructional designers, librarians, professionals, and vendors in dialogue about the future of education. We will examine the theory and practice of teaching and learning in today's blended and online classrooms, flipped classrooms, MOOCs, virtual spaces, and social media environment.