Scholarships
The Sharon Gallagher Memorial Scholarship
Financial assistance is available for first time attendees to the SUNY Conference on Instruction and Technology (CIT).  The Scholarship aims to encourage new faculty and staff involved in teaching, learning, and instructional technology initiatives to pursue opportunities for professional development and networking with colleagues across the SUNY System.  CIT was established in 1992 to provide faculty and instructional support professionals with an opportunity for professional growth, to share experiences and expertise, discuss common problems, brainstorm solutions, and explore innovative avenues for improving the learning environment with technology.
The Sharon Gallagher Memorial Scholarship covers recipient's costs for:
CIT Registration fees
Conference meals
Fees associated with on-campus housing
Qualifications: 
Full-time SUNY Faculty/Staff attending the SUNY CIT Conference for the first time
How to Apply: 
Please provide a letter (one to two pages) highlighting why attending the SUNY CIT conference will benefit your professional development.
Submit your letters to cpdinfo@suny.edu with the Subject Line: Sharon Gallagher Scholarship.
The Sharon Gallagher Memorial Scholarship Committee will review letters and announce the recipient by May 2, 2022.
Donate:  
The SUNY CPD is accepting donations to the Sharon Gallagher Memorial Scholarship.  Donate by sending a check made out to the The Upstate Foundation to:  SUNY Center for Professional Development, Attn: Sharon Gallagher Scholarship, 6333 State Route 298, Mailbox 2, East Syracuse, NY 13057.
2022 Sharon Gallagher Memorial Scholarship Recipient – Dr. Md Imranul Islam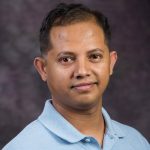 Our congratulations to this year's recipient of the Sharon Gallagher Memorial Scholarship, Dr. Md Imranul Islam.  Dr. Islam is an Assistant Professor at the Fashion Institute of Technology.  Dr. Islam has a number of years of industry and teaching experience in the Textile Knitting arena.  He will be presenting, Implementation of Extended Reality as Effective Learning Solution in Knitting Education, at CIT 2022 on Thursday, June 2nd.
---
SUNY FACT² Scholarship
Presenter's Scholarship
SUNY FACT² is pleased to support participation in CIT by providing a $50.00 Scholarship toward the cost of the conference registration for the lead presenter (the individual who submitted the abstract).  This scholarship is automatically awarded and scholarships are limited to (1) per person.  Presenters will be given a discount code to use when registering.
All remaining costs are the responsibility of the individual.  This includes the balance of the conference registration, lodging, travel, and optional pre-conference workshops.
Transfer of Scholarship – The entire amount or a portion of your scholarship may be transferred to a SUNY individual who is co-presenting on the same presentation.  To transfer your scholarship to a co-presenter, you must notify the SUNY Center for Professional Development in writing so that the scholarship can be applied to the correct individual's registration.
Co-Presenters – Due to the limited amount of scholarships available, co-presenters do not automatically receive a Scholarship, but are encouraged to apply for one by submitting a 'Statement of Interest' (see below).
---
SUNY FACT² will award a limited number of $50 scholarships to support attendance at CIT!
Eligibility Requirements – Applicants must be full-time SUNY faculty or professional staff involved in instruction or instructional support at one of SUNY's 64 campuses.
Selection Criteria  – A demonstrated commitment to technology application in a classroom environment as evidenced in your 'Statement of Interest.'
Application will be reviewed and scholarship recipients will be selected in accordance with procedures established by FACT² and the CIT Planning Committee.
Applicants must submit an email 'Statement of Interest' indicating why they should be considered for a FACT² Scholarship.  These should be submitted by the 3rd Sunday in April to be considered.
Submit Statement of Interest to nancy.motondo@suny.edu