Md Imranul Islam is 2022 Sharon Gallagher Memorial Scholarship Recipient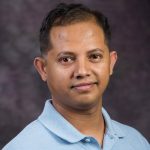 We are pleased to announce that Md Imranul Islam has been selected as this year's Sharon Gallagher Memorial Scholarship recipient.  Dr. Islam is an Assistant Professor at the Fashion Institute of Technology, with a number of years of industry and teaching experience in the Textile Knitting arena. The Scholarship aims to encourage new faculty and staff involved in teaching, learning, and instructional technology initiatives to pursue opportunities for professional development and networking with colleagues across the SUNY System.
Trackback from your site.