CIT 2015
Rising to Meet Our Challenges: Preparing for Global Success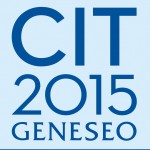 The massive influx and changing nature of technology has created a global society and higher education must prepare students to be successful in this new landscape. How do we as faculty, students, and administrators respond to the challenges that this brings? Challenges present us with exciting opportunities for reflection and innovation. This year's CIT focuses on those areas where we can have the greatest impact on the ways we teach, learn, and serve our campus communities.
Through SoTL research, we will learn what strategies are being implemented with the greatest success in bringing about improved learning outcomes for our students. In the 21st Century Learning Environments track, we have an opportunity to explore the creation of new learning environments, those that are adaptive, flexible, active, and student-centered. We are all challenged by the rising cost of resources, and faculty/staff and students are learning to create, curate, and design learning with open educational resources, while exploring sustainable models of open source solutions.
In her 2014 State of the University Address, Chancellor Zimpher challenged us to push our limits "to expand education Access, ensure degree Completion, and support student Success." In the track named after this charge, we will showcase those areas which harness the strengths of our System, and collaborate on initiatives that guide ALL learners through the pipeline from whichever point they embark, or continue their educational journey.
Then, in Keeping the Lights On: Infrastructure & Support, we have the opportunity to rethink our support structures and create new ones that will meet both students and teachers in a digital world and transform the learning experiences into those that position the system, its campuses, and our faculty/students for global success.
Tracks:
Scholarship of Teaching and Learning (SoTL)
21st Century Learning Environments
The Open Educator
Access, Completion, and Success
Keeping the Lights On: Infrastructure & Support