Rhianna Rogers selected for CIT 2023 Keynote!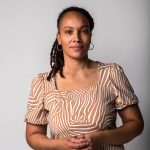 We are pleased to announce that Rhianna Rogers, inaugural director of the Center to Advance Racial Equity Policy (CAREP) and a policy researcher at the RAND Corporation, will deliver the Keynote at CIT 2023.  The Keynote address is scheduled for Thursday, May 25th.  Read more about Rhianna Rogers.
Check back for updates on our Closing speaker.
Remember to submit your abstract today!  Abstracts can be submitted up to January 8, 2023.
Trackback from your site.