CIT 2022 Closing Speaker – Kevin Gannon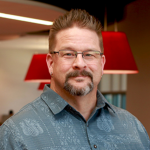 A Pedagogy of Hope During the Time of Monsters
It's difficult to escape the monstrous problems which confront those of us who care deeply about higher education and its community. We are still reckoning with Covid-19 and the damage it's done. Moreover, inequities, injustices, violence, and fear shape the environments in which we and our students have to operate. We reside, to use the (translated) words of philosopher Antonio Gramsci, in "the time of monsters." While it may seem perverse to talk about "hope" in this context, as we move into this new and uncertain chapter in higher education, it is a pedagogy based in hope that offers us the best opportunity to shape this "new normal" in ways which advance teaching and learning, equity, and justice—both on campus and in our communities. This session will explore the ingredients of a Pedagogy of Hope and offer both principles and concrete strategies for us to make that hope meaningful and operational.
Friday, June 3 ~ 10:45 am
Waterman Theatre, Tyler Hall
Trackback from your site.